The timetable for Europavox festival Zagreb 2022 is live!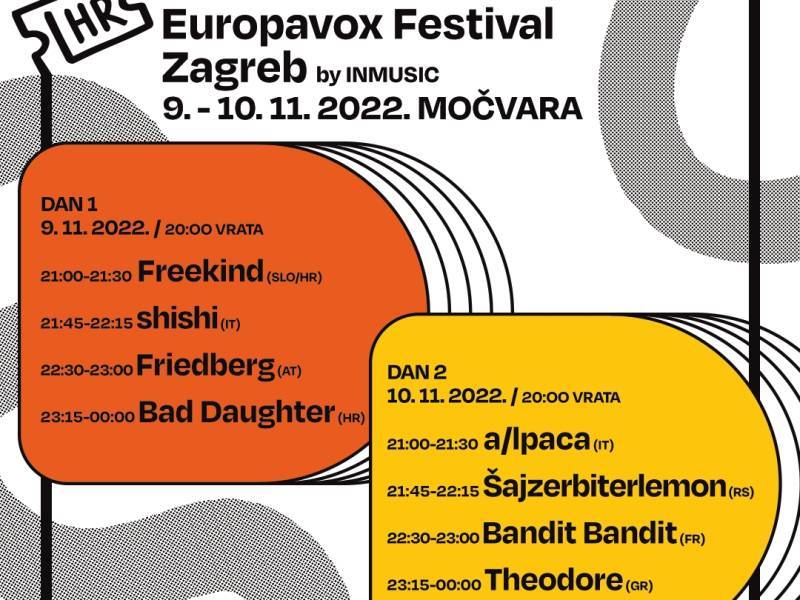 The second edition of Europavox festival Zagreb will take place on November 9th and 10th, 2022 at Zagreb's Club Mochvara!
The first evening of Europavox festival Zagreb 2022 opens its doors ar 8pm with the neo soul duo Freekind as the first artists to take the stage at 9pm, followed by the Lithuanian indie surf mermaids shishi at 9:45pm. The Austrian singer songwriter Anna F. presents her latest music project, the post-punk four piece band Friedberg at 10:30pm, while the local sweetheart Dunja Ercegović, presenting her latest and highly acclaimed music alter-ego Bad Daughter, will close the evening od great female led music from 11:15pm.
The second evening of Europavox Zagreb also opens its doors at 8pm with the Italian krautrock fourpiece a/lpaca on stage at 9pm and followed by the energetic new Belgrade trio Šajzerbiterlemon at 9:45pm. The French stoner rockers Bandit Bandit take the stage at 10:30pm and the Greek multi-instrumentalist Theodore will close the programme of the second edition of Europavox festival Zagreb with his cinematographic landscapes at 11:15pm.
Warm up and find out more about the eight fantastic new European music talents featured at the second edition of Europavox festival Zagreb by listening to the official Europavox playlist at Europavox.com!
Single day tickets as well as two day festival tickets are available in presale via the official INmusic festival webshop and at the doors of Klub Močvara each festival day from 8pm.