Cashless and Contactless payment
Cashless and contactless payment
Cashless and contactless shopping means that you can buy food and drinks at INmusic festival, and at the festival camp by using one of the following:
INmusic festival cards
Any Contactless bank card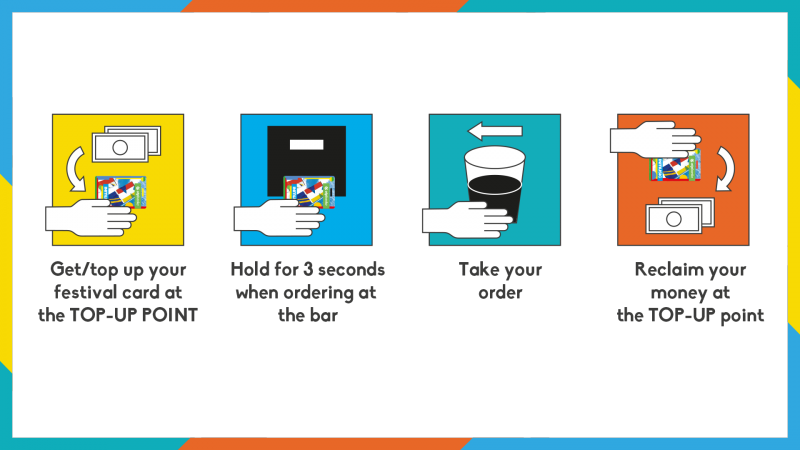 To facilitate the usage of the appropriate card, we've prepared a few answers to some of the most important questions.

1. How to get your cashless festival card?

You can buy an INmusic festival card for the price of 10 kunas (HRK) at any TOP-UP location. You'll find 30 TOP-UP locations throughout the festival venue. If you wish to return the card at the end of the festival, you'll get the 10 kunas card deposit back as well.
2. How much money do I have on my festival card?

You have exactly the same amount you put on the card after its purchase or at any following card top-up. If you spend all the money on your card, you can always put more money on it. Look for any of the 30 TOP-UP locations and make an additional payment.
You can add money on your card by using cash or any other credit card. For your safety we've put a top-up limit in the amount of 2,000 Croatian kunas.
3. Where can I use my card?
It's possible to pay with your festival card at any catering location of the festival venue and camp. The only exceptions are festival merchandise and cigarettes. You can buy merchandise with cash and bank cards.
4. What is the limit on my festival card?
The festival card limit is the same as the amount of money topped-up on your card, and you can always check your card balance at any payment point or top-up point. Your current balance is also listed on your last top-up receipt. You can make an infinite number of transactions with your festival card, as long as you have sufficient funds on the card to make a payment.
5. What is the payment limit on my contactless bank card?
For all payments with contactless bank cards in the total amount over 100 Croatian kunas you will need to enter your card PIN or authorize the payment by signing the credit card receipt.
6. What if I lose my card?
Keep a close eye on your festival card! Your purchase of the festival card is followed by a receipt handed to you by the cashier. Make sure you save the receipt because that's your proof the card is yours in case you lose it. Thanks to the information provided on the receipt our staff at the festival Info Point will be able to help you out.
Owners of contactless bank cards are requested to follow the procedure prescribed by their designated bank.
7. INmusic is over, and I still have some money left on my festival card - how can I get it back?
Your money is safe. Our TOP-UP locations are also CASH-OUT locations. Whether the festival's over or you're just passing by, go to the one of our TOP-UP/CASH-OUT locations to get your money back.
Make sure to save your card purchase receipt because without it it's impossible to complete the CASH-OUT!
Don't worry in case you haven't cashed-out at the festival before it closed (June 28th at 5 am) - you can reclaim your money at all OTP bank branches in Croatia from Tuesday, July 2nd to Tuesday, July 9th 2019. You just need to present your passport and the card purchase receipt. In case you are picking up the money for your friends as well, keep in mind that one person can retrieve funds from max 3 cards and also only by presenting the card purchase receipt for each card.
In the end, you can return the card you bought at your arrival, and you'll get your 10 kunas deposit back. Or you can keep the card as a souvenir from your favorite festival – INmusic!
Visit the link to see all the OTP banka branches in Croatia where you cqan request a cash out of your festival card during the designated period.
8. Can I use my old festival cashless card on another INmusic festival edition?
Unfortunately, no. Due to limitations in the cashless update system, only festival cashless card bought on the current festival edition are valid - old cashless cards are not.