INmusic presents Europavox festival in Zagreb's Culture Factory from the 24th-25th of September!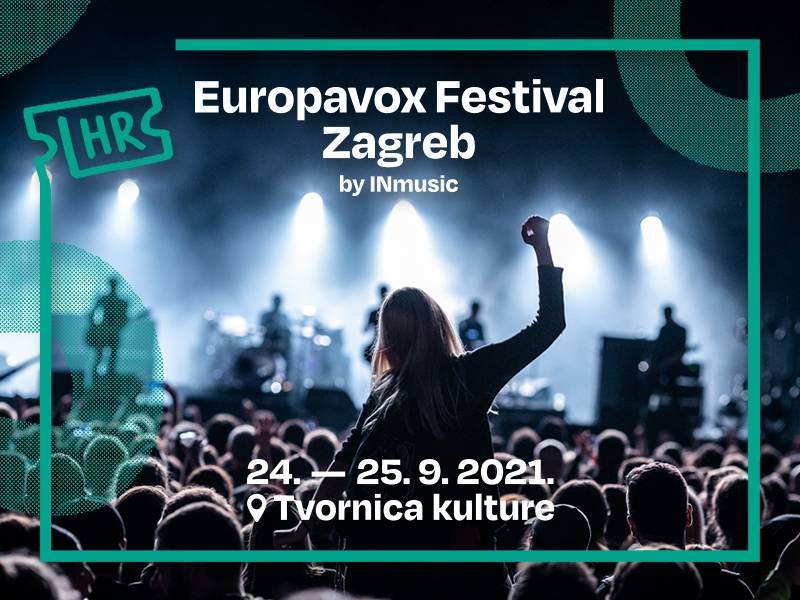 The first entirely international music programme festival since the start of the pandemic marks the long-awaited return of international music artist performances to Croatia – 10 bands from 10 different countries to celebrate European cultural diversity!
The first edition of Europavox festival Zagreb will take place at the Culture Factory from September 24to to the 25th, 2021 and will mark the new format of the highly acclaimed 4-year large collaboration project Europavox whose proud Croatian partner since 2016 is INmusic festival. Europavox was born 15 years ago with two main goals: to help European music talents to travel and spread their songs all over the continent, and to help music lovers to discover great new artists. In line with the EU culture strategic objectives, simultaneously the objectives of the Republic of Croatia and national culture strategy, Europavox is dedicated to promoting critical contemporary audience building, cross border mobility and international cultural exchange, and highlighting European cultural diversity. As part of the Europavox Project 2020 – 2024, co-funded by the European Commission, Europavox Media will connect musicians with music fans both digitally and live through three main platforms:
· Festivals in seven European partner countries (France, Italy, Belgium, Austria, Lithuania, Romania and Croatia),
· Europavox media curated by cosmopolitan professional music journalists and artistic directors from all over Europe, Europavox Media is a never-ending source of inspiration and active promotion of young European musical talents and diversity, and
· Spotlight programme where the Europavox artistic committee, formed by all festivals' artistic directors that are part of the Europavox project, meets every month to elect the best European musical potentials of the month on quality and diversity criteria, and to provide performative, digital and production tools to champion them to international recognition and stages across the continent.
INmusic festival joined the Europavox project in 2016 as it embarked on a multi-year 7 country partner collaboration phase which welcomed the Europavox project to the Croatian cultural and music space at the Hidden Europavox stage of INmusic festival. Considered the favourite stage of the past four INmusic festival edition by many music fans and explorers, the Europavox stage presented a top notch selection of young and contemporary European music talents – Fontaines D.C., Superorganism, Peter, Bjorn & John, Super Besse, Reykjavíkurdætur, Zeal & Ardour, Black Honey, and many more. Europavox festival Zagreb in September 2021 marks the first fully international festival edition of the running Europavox project since the start of the coronavirus pandemic which disabled cross border cultural exchange and live music promotion in Croatian as well as across Europe and the globe.
Europavox festival Zagreb 2021 will take place in Zagreb Culture Factory in a reduced and limited audience capacity in accordance to the applicable epidemiological measures and EU digital COVID certificate procedures from September 24th to the 25th, and will welcome 10 music acts from 10 different countries across two programing distinct festival days. More news on the festival programme as well as ticket info will be announced very soon!