Europavox festival Zagreb day 2 programme revealed – the alternative sound of young Europe!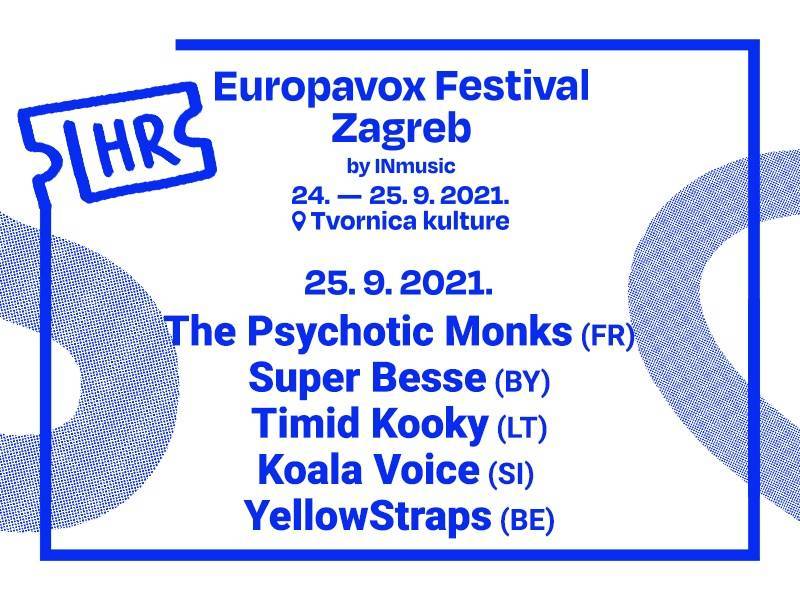 The Psychotic Monks, Super Besse, Timid Kooky, Koala Voice, and YellowStraps will perform at Zagreb's Culture Factory on September 25th, 2021 at the second night of Europavox festival Zagreb!
Europe's vibrant music scene has always set the standard high and presented a playground for musicians from across the globe to find their musical freedom or reinvent their sound – from the swinging London of the 1960's and dark existentialism of 70's and 80's Berlin to the glitzy and lush club scene of Paris, European cities have harboured musical talent throughout the formative decades of contemporary music. The variety of musical expressions present in contemporary European music finds its most intense outlet in the rock club scene and the myriad of alternative pop, punk, rock and hip-hop bands and artists whose audience reflects their personal impression of the world in their music. The second night of Europavox festival Zagreb will feature a prime example of a loud, intense and vibrant rock club night out – spanning from experimental hip-hop to new industrial and post-punk, and everything in between!
Belgian duo YellowStraps, Rwanda born, Uganda and Brussels bred brothers Yvan (vocals) and Alban (guitar) Murenzi, incorporate hip-hop, jazz, R&B, downtempo beats and soul into their music representing the widely present denial of genre labels by young artists, and instead inventing and creating a new, unlabelled body of musical work. Koala Voice, the Slovenian quartet that quickly made a name for themselves with joyous, carefree indie punk, full of killer riffs and fun, infectious melodies and three notable studio albums under their belt echo the voice of the Millennial generation – 'being broke, being heartbroken, but keeping on believing'. Lithuanian trio Timid Kooky is said to be all about cartoonish celebration of the mundane – their combination of alternative and progressive rock, noise and funk, recall a Queens of The Stone Age meets Primus aura spiced up with a dash of Beastie Boys boisterous wackiness. Super Besse need little introduction for the Croatian audience – the Belarus post-punk duo that thrilled the INmusic audience twice with their unique mixture of melancholic new wave and euphoric live performances dubbing them by many as the 21st century's Easter European relatives of Joy Division. The evening's rollercoaster through the contemporary state of mind closes with an apt take on uncontrolled but deliberate chaos, as orchestrated and balanced between neurotic madness and contemplative melancholy by French four piece The Psychotic Monks.
Europavox festival Zagreb will take place on Friday, September 24th, and Saturday, September 25th, 2021 at Zagreb's Culture Factory. One day tickets for Europavox festival Zagreb are available from 99 kunas (14 EUR), and two day festival tickets from 149 kunas (20 EUR) via the official INmusic festival webshop from September 1st 2021. Europavox festival Zagreb will take place in accordance with the current epidemiological measures and recommendations set forth by national bodies and with the mandatory inspection of EU digital COVID certificates or valid negative COVID test certificates, along with presenting an accompanying identification document.