The timetable for Europavox festival Zagreb 2023 is live!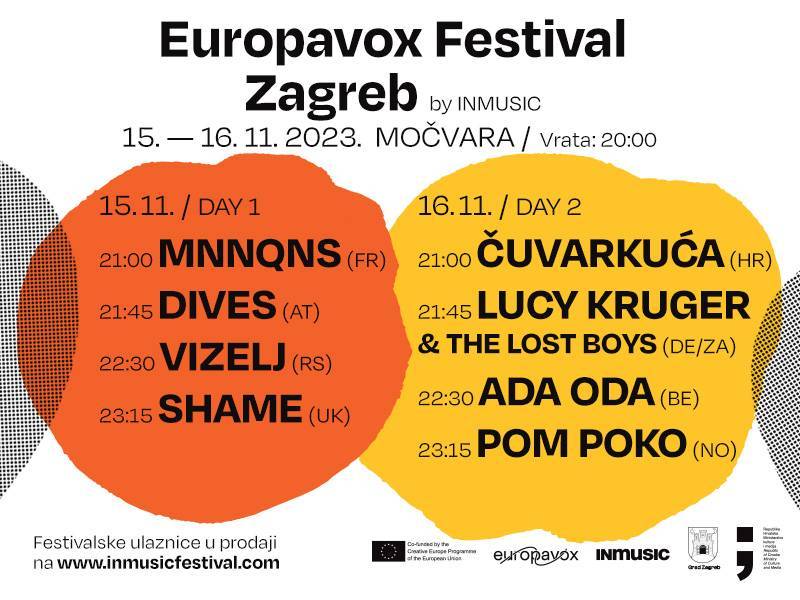 The third edition of Europavox Festival Zagreb will take place on November 15 and 16 at  Zagreb's Club Mochvara!
The first evening of Europavox festival Zagreb 2023 in Club Mochvara opens its doors at 20h. The French MNNQNS will open this year's festival with their psychedelic post-punk performance full of energy at 21h. At 21:45h you will get the chance to listen to the Austrian female trio DIVES, which are attracting more and more attention from international music circles, with their recognizable surf-garage pop. At 22:30h, energetic Vizelj from Belgrade will take the stage, with experimental sound, punk attitude and club energy. The excellent British Shame will close the first evening, with their premiere performance in Croatia, starting at 23:15h.
The second night of Europavox festival will also open its doors at 20h. The indie rock rhythm of Čuvarkuća will open the program at 21h. At 21:45h Lucy Kruger & The Lost Boys follows, whose pop-noir intertwines with elements of grunge and folk. Next on stage will perform Ada Oda, from 22:30h whose energetic short songs are accompanied by a dose of tension and completed by singing in Italian. From 23:15h, the night will conclude noisy sugar punk with an eclectic performance of the Norwegian quartet Pom Poko.
Warm up and find out more about the eight fantastic new European music talents featured in the second edition of Europavox festival Zagreb by listening to the official Europavox playlist at Europavox.com!
Festival tickets are available in presale via the official INmusic festival webshop. At the entrance, it will be possible to buy two day festival tickets for 20 EUR as well as single day tickets for 15 EUR.