Superval bands - straight from school to INmusic festival #15 stages!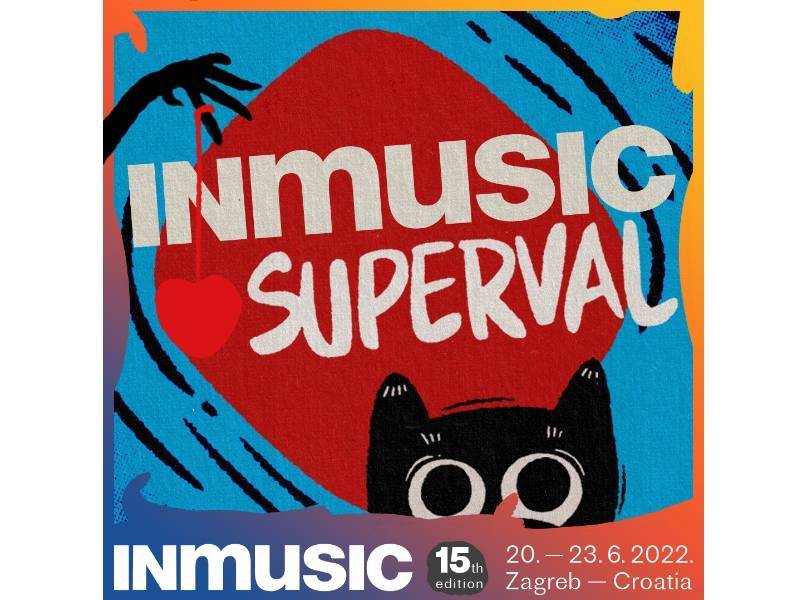 Slow Cured, Freaktion, Dystopia and Gradske bitange - are the school bands that have proven their musical talent as part of the Superval festival – and in the European Year of Youth are opening the door to the youngest musical hopes at the INmusic festival #15!
During the European Year of Youth, the INmusic Festival and the Superval Festival have joined forces to encourage children and youngsters to discover and develop their musical talents. After the third live edition of the praiseworthy Superval festival at the Vintage Industrial Bar on June 17 and 18, where the audience will be introduced to 24 excellent school bands for the first time, while the 'super wave' of school musical hopes will spill over to INmusic festival #15 as many as four bands get a chance to share the stage with the world's biggest names!
Superval is a school bands festival that encourages networking, sharing experiences, creating and listening to music and allows children and youngsters to perform like true professionals in a club atmosphere, with the technical support of professionals and feel sincere concert emotion in front of familiar and unknown audiences.
Slow Cured, Freaktion, Dystopia and Gradske bitange are the school bands with their own author music that will present their musical talent at INmusic, and all of them will have the honor to open the Hidden Stage program at the jubilee 15th edition of the largest Croatian festival of contemporary music.
Slow Cured is coming to the INmusic stage on Monday, June 20th. Filip, Jakov and Bruno are a school band from Zagreb, and these great guys are planning to release their first EP very soon. They introduced themselves to the audience with the song "Umoran", and with a half-hour performance at INmusic, they will show who they are to a wider European audience. The day after, on June 21st, Hidden stage will open with the performance of Freaktion - Toni, Vasja, Gabriel and Maja from Pula will bring their first album to the INmusic stage. Their album will see the light of day just before the festival. The bright single 'Calamity', with which they 'opened' their debut, proves that they have a bright future ahead of them. Dystopia is a band from Velika, which, although still in its infancy, has a big and strong metal heart, and in its music workshop there is also original material that they can't wait to play in front of a wider audience. Stjepan and Luka are looking for vocals, but they don't want anyone. As soon as they find their soul mate, they will enter the studio and start recording. They will perform at the INmusic festival stage on Wednesday, June 22nd, while on the fourth day of the festival, June 23rd, Hidden Stage will be open by the City Bastards. Matko, Domagoj, Mislav and Noa from Valpovo are also in the process of recording their first album, and they have prepared a half-hour show for the INmusic festival, some of which can be found on their YouTube channel.
2022 marks the European Year of Youth, which aims to highlight the important role of young people in creating a better and more inclusive society and a greener and more digital future, and INmusic and Superval work together to encourage young musical hopes to create, grow and choose public space for their talent by opening the door to young bands to gain experience of performing on the biggest stages in Croatia.
On May 9th, the European Music Day, Superval bands were announced to perform at the INmusic festival. At the same time, the Europavox project, whose long-term Croatian partner is the INmusic festival, is marking the European Music Day this year in its third consecutive digital edition throughout Europe, where the great Porto Morto will perform as Croatian representatives. This year, Porto Morto will also grace the stage of the largest Croatian open-air festival at Jarun.
The Killers, Nick Cave & The Bad Seeds, Deftones, Royal Blood, IDLES, Róisín Murphy, White Lies, Fontaines D.C., Gogol Bordello, Rival Sons, Amadou & Mariam, Sleaford Mods, The Comet Is Coming, Hinds, Dry Cleaning, Tamikrest, Snapped Ankles, and many others at postponed edition of INmusic festival #15 which will take place at Zagreb's lake Jarun, for the first time over four festival days, from June 20th to June 23rd, 2022. Four-day tickets for INmusic festival #15 are available via the official festival webshop for just 91 EUR, as well as 7-day festival camping tickets for just 35 EUR, while already purchased three-day tickets for INmusic festival #15, postponed due to the COVID-19 pandemic, remain valid for all four INmusic festival #15 dates in 2022. One-day tickets for INmusic festival #15 are also available and can be purchased exclusively through the official INmusic festival webshop.