One of a kind festival stage will be the world's first replica of the historic Tesla tower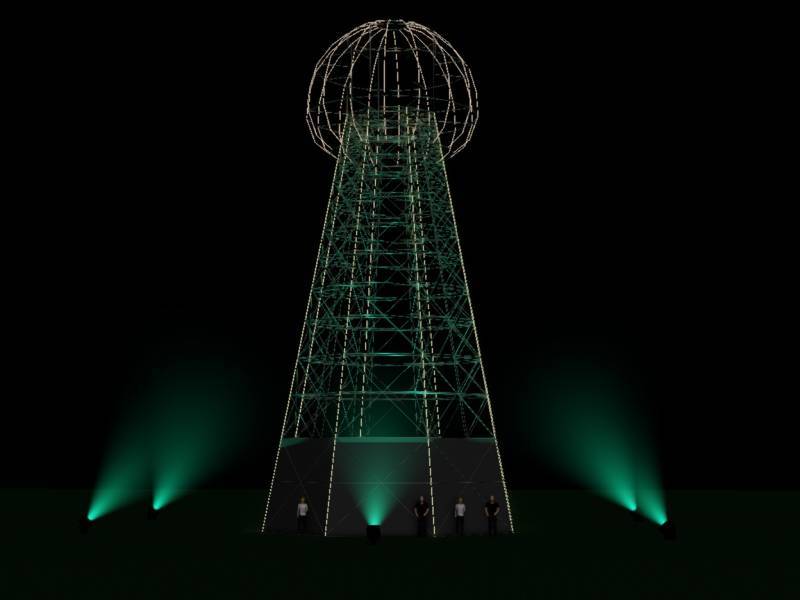 Zagreb's INmusic festival is set to build a one of a kind festival stage, dedicated to pay tribute to David Bowie and Nikola Tesla, which will be operating within a 100ft tall construction replica of the original Tesla's Wardenclyffe tower. The Tesla Tower Stage at INmusic festival will be the first of its kind ever built in the world exactly 99 years after the historic original was torn down in 1917 in Long Island, New York.
Nikola Tesla, one of the most appreciated scientists as well as one of the biggest inventors, was a genius ahead of his time, was born in Croatia back in 1856. Tesla literally is "the man who lit the world". Modern day life would not be possible without the scientific achievements and innovations developed by Tesla. Thanks to his inventions, the world has the benefit of listening to and sharing music in the form we known today. In 2016 the 160th anniversary of Tesla's birth will be celebrated all over the world and the Tesla Tower Stage at INmusic will pay homage to more than one genius who shaped our world.
The unexpected and tragic loss of the contemporary music hero, David Bowie at the start of 2016 was another inspiration to think beyond the limits of what Bowie's legacy is. Bowie was not just a musician, he was an all-around artist, a creator and a forerunner for the new, the strange and the infinite creative power generating a change in music history. In that respect, a Bowie tribute is a necessary staple of this year's INmusic festival and the ethereal link shared between Bowie and Tesla transcends the concept of a mere musical tribute.
David Bowie portrayed Tesla in Christopher Nolan's 2006 feature film "The Prestige". Bowie was perfectly cast to play the misunderstood genius whose mind was enchanted by cosmic energies and hopes for mankind. Tesla was one of the last movie roles Bowie played and the perfect fit of these two charismatic individuals on the silver screen still lingers on for many fans of either of the greats.
These two magnificent people had a huge impact to modern culture and this is precisely why INmusic decided to pay tribute to those two brilliant minds
With its decade long tradition, apart from a truly great music programme, INumusic festival constantly presents local and international audiences with a variety of performing art pieces, design and applied arts, theatre and film programmes. The newest festival attraction will surely win the hearts of local and foreign visitors alike!
INmusic festival is the largest Croatian open-air music festival, hailed as one of the best in Europe, which takes place at Zagreb's lake Jarun at the beginning of each summer.
INmusic festival #11 will be held from June 20th to June 22nd 2016 in Zagreb, Croatia
The lavish INmusic line-up includes Florence + The Machine, PJ Harvey, Gutterdämmerung featuring Henry Rollins, Jake Bugg, Skunk Anansie, The Kooks, Wilco, The Coral, Yeasayer, The Heavy, Pennywise and many more
3 days of music on 3 isles - INmusic festival is a three day open-air music festival and the only festival taking place on three lake isles (one festival island and two campsite islands) mutually linked by pontoon bridge.
INmusic is the festival you wished you knew sooner about – from the beautiful venue to fantastic music and a welcoming atmosphere it's a wonder it still remains Europe's hidden music gem.
INmusic festival is Europe's best buy festival - for the most affordable ticket price INmusic brings you the best of the festival summer circuit, the greenest and friendliest campsite and all around diverse and fun festival experience in the heart of Croatia's capital.
Three days of festival fun featuring the hottest names in music today and 7 days of camping with
all amenities on three islands in a lake park in the capital of Croatia – all for just 81 euros total (47
euros for a three day festival ticket and 34 euros for a seven days of camping).
Tickets are available via the festival's official web shopand via Eufest.com, the official INmusic festival ticket vendor in the UK.
Festival ticket (3 days- 20th-22nd June 2016): £36 (€47)
CampIN' ticket (7 days - 17th -24th June 2016): £25 (€34)
Start your summer at INmusic festival!
Welcome to Zagreb, Croatia.