Lysistrata and Super Besse are the newest names set to play the Europavox stage at INmusic festival #14!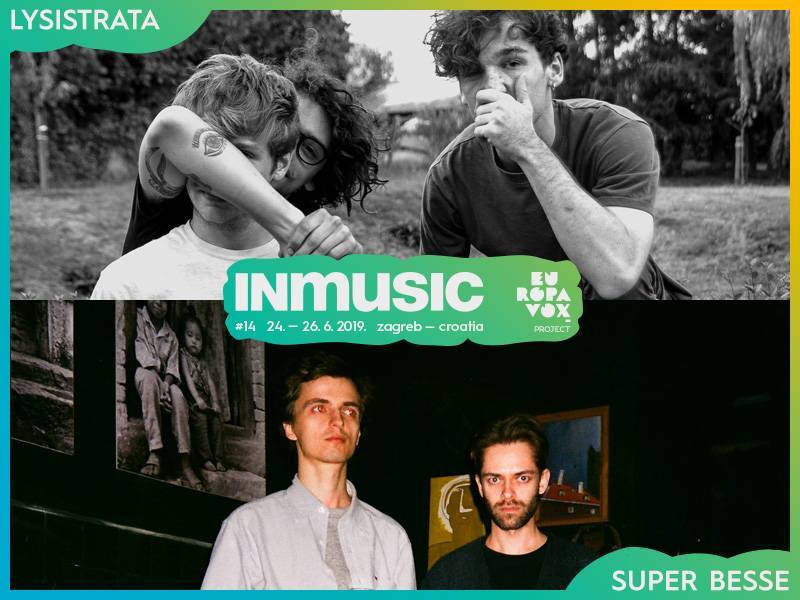 The stellar INmusic festival #14 line-up is stronger for two more great music names - Lysistrata from France and Super Besse from Belarus, will present the new sounds of Europe at INmusic festival #14 as part of the Europavox project!
Lysistrata was founded in 2013 and runs on fiery youthful energy, which is evident in their unique sound. Their music is mostly influenced by a mix of post-rock and noise, which is why Lysistrata is the must see act for fans of Fugazi, At the Drive-In and A Place to Bury Strangers. Their live shows are bursting with intensity, and the band has already won numerous music awards in France. Lysistrata are Max Roy (bass, vocals), Théo Guéneau (guitar, vocals) and Ben Amos Cooper (drums, vocals). The talented trio released their debut album The Thread at the end of 2017, and in 2018 they performed at one of the biggest European festivals, Rock en Seine. With new music on the way, Lysistrata is heading to INmusic festival #14 in top form, ready to conquer the audience in Croatia as well as around the world.
Two passionate music lovers are the masterminds behind the name Super Besse, and are returning to the INmusic festival stage after a riveting performance in 2018. Their career began with live performances in their homeland of Belarus, and they broke out on the international stage at Tallin Music Week in 2014 in Estonia. Since then this post-punk duo released their first album in 2015, their second album in 2017, and they are currently working on the new material. Super Besse is an unusual blend of euphoria and melancholy, and unsurprisingly many are quick to compare them to the legendary Joy Division. Super Besse will deliver their newest material and a guaranteed dose of post-punk riffs to this year's INmusic festival!
Lysistrata nad Super Besse, among many other are featured at INmusic festival as part of the Europavox project which is dedicated to honoring diversity in music and culture in general. INmusic festival is the proud Croatian partner of the Europavox project, an European Commission funded long term collaboration project between seven European countries, dedicated to the promotion of European musical diversity and providing an international and interactive live music experience.
Lysistrata and Super Besse are joining the stellar INmusic festival #14 line-up including the legendary The Cure, Foals, Suede, Garbage, LP, Thievery Corporation, Johnny Marr, The Hives, Kurt Vile & The Violators, Frank Turner & The Sleeping Souls, Santigold, Sofi Tukker, Peter Bjorn and John, Skindred, Zeal & Ardor, Fontaines D.C., Black Honey, Gato Preto, and Siddharta at INmusic festival #14, along with many more yet to be announced. INmusic festival #14 will take place at the Isle of Youth at Zagreb's lake Jarun from June 24th to the 26th, 2019. Three day festival tickets for just 74 EUR (+transaction costs) and seven day camping tickets for just 33 EUR (+transaction costs) are available online via the official festival webshop.