INmusic festival #15 postponed for June 2021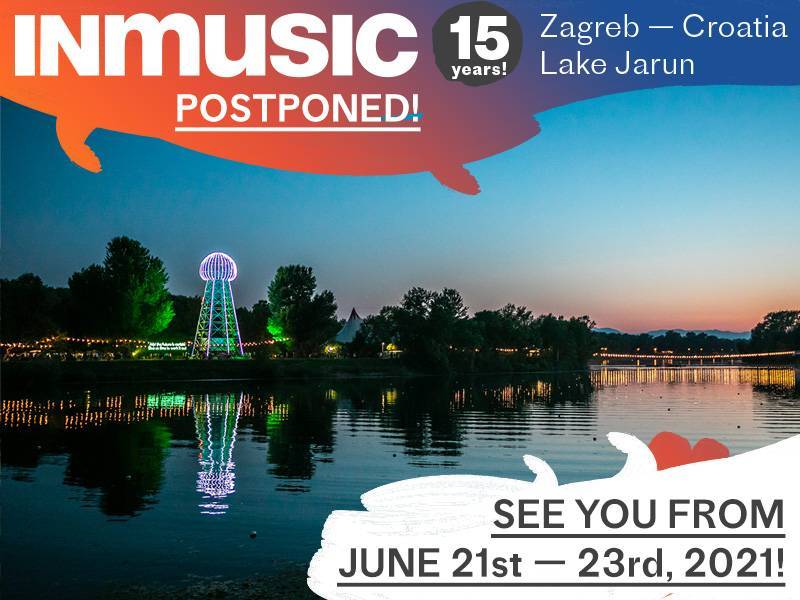 The anniversary edition of INmusic festival is postponed due to force majeure – the coronavirus pandemic results in bans of public gatherings worldwide
On April 23rd 2020, the Croatian government has announced updates to the national epidemiological measures and limitations introduced in March to fight the spread of the coronavirus epidemic in Croatia, which include the expected and necessary continuation of bans for large public gatherings and events. In line with similar decisions and bans on public gatherings well into the summer months announced over the past weeks by many European governments, the expected postponement of INmusic festival #15 for June 2021 has now become official. Having carefully monitored the situation and development of the coronavirus pandemic from early March, the INmusic festival organisational team has acted promptly to facilitate the expected anniversary event's postponement to 2021.
INmusic festival #15 will take place from June 21st to June 23rd 2021, and the festival campsite will welcome INmusic festival #15 visitors from June 18th to June 25th, 2021. Tickets purchased for INmusic festival #15, as well as tickets for the INmusic festival #15 campsite, remain valid for the new event dates in 2021.
The festival's organization team is in close contact with the announced and not-yet-announced artists who have all expressed their wish and intent to execute their performances in the new dates of the postponed INmusic festival #15 edition. Seeing as all planned international tours need to be rescheduled which is a complex process which requires international coordination, artists and the festival's organization team kindly ask for patience and understanding until this process is finalized.
INmusic festival would like to thank all visitors and friends of the festival for their expressed support and kind words, as well as for the efforts made by each individual in curbing the course of the pandemic that has affected all our lives and summer plans. It is only through kindness, taking care of the people around us, and taking responsible precautions in the coming months that we can look forward to a live music packed summer of 2021!