INmusic #13 beer and gourmet offer designed to satisfy every foodies taste!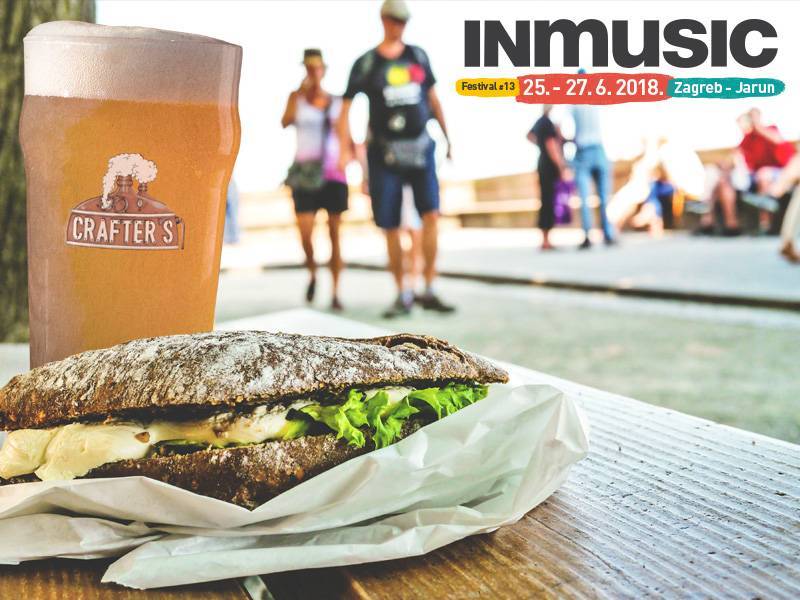 Crafter's brewery as the new INmusic's festival beer partner will offer exclusively craft beer options at this year's edition of the festival, while the popular Zagreb bistro Cheese Bar joins the festival's versatile food line-up!
Beside a spectacular music program, this year's INmusic has even more surprises in store for its visitors, a special gastronomy and craft beer selection on offer! INmusic festival's new beer partner, local craft brewery Crafter's, will present some of the most internationally renowned craft beers produced in Croatia and brewed by Croatia's most award winning homebrewer, Silvije Boroša. Apart from he crisp and refreshing Crafter's Hopper Session IPA as the official INmusic #13 beer, Crafter's will also offer a wide range of great craft beers from their brewery such as : Glider (pilsner), Escape (English IPA), Chimney (oatmeal stout), Swing (American red ale), Switch (rye IPA), along with Crafter's specialities Spirit (unique scotch ale) and Special Pale Ale.
INmusic #13 is proud to welcome Croatia's favourite food writer Rene Bakalovic, under whose gastronomical guidance the festival will be richer for a bistro food experience courtesy of the popular Zagreb Cheese Bar. Featuring top quality and fresh specialities by Croatian food producers carefully selected by Rene Bakalović and chefs at Cheese Bar, INmusic festival goers will be able to feast on small nibbles of fantastic Croatian cheeses, gorge on juicy burgers and handmade sausages, and indulge in fresh seafood and pasta dishes made to order.
Thanks to the collaboration with Crafter's brewery, INmusic festival #13 is the first major music festival in Europe serving exclusively craft beer, which goes hand in hand with top-quality food options set to cater the hungriest festival party animal and the more refined foodie alike. The promotion of top Croatian craft beers and gourmet products to thousands of foreign guests at INmusic festival is definitely an important tourist and market breakthrough by the festival which is, with the right partners, yet to discover its full potential.
The audience interest for this year's edition of INmusic is once again above average with only 5% of tickets left on sale. One day tickets for INmusic festival #13 are also available, exclusively in the INmusic festival webshop. Queens Of The Stone Age, Nick Cave & The Bad Seeds, Interpol, Alice in Chains, David Byrne, St. Vincent, Portugal. The Man and The Kills are some of the great bands that INmusic festival goers can see live on the biggest open-air festival in Croatia.
INmusic #13 will take place at the Isle of Youth in Zagreb's lake Jarun from June 25th to the 27th, 2018. Festival tickets are available online via the official festival webshop for just 67 EUR, as well as seven day camping tickets for just 33 EUR.