The Ills and Run Sofa are the newest names added to the Europavox stage at INmusic festival #14!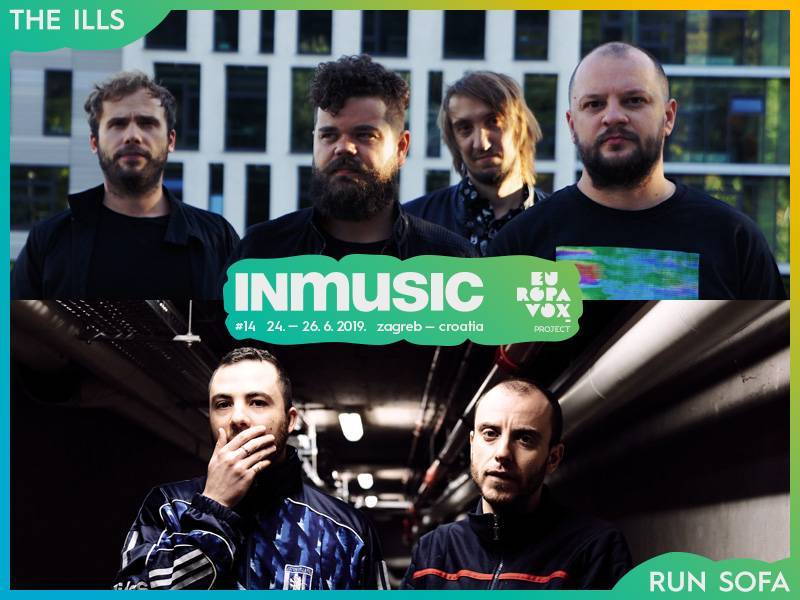 The Ills from Slovakia and Run Sofa from Belgium are the latest additions of the Europavox project at this year's INmusic festival!
The Ills were founded in 2008 in Bratislava and despite the fact that their music is described as post rock instrumental, it is a group of musicians who flirt with numerous genres in their songs. They are definitely most widely recognized by their live performances where their musical skills combined with the audience feedback delivers a great atmosphere. They performed all around Europe, and during their career they released five praised studio albums, and the latest album "Disco Volante / Mt. Average" was released in February this year.
Run Sofa is a Charleroi based foursome formed by two cousins, Antoine Romeo on vocals, and Julien Tassin on guitar, and backed up by drums and bass. Their first EP, ''Shenanigans'' made them the talk of Printemps de Bourges, which followed by a UK tour. Their first album, Say, was released in early 2018 and their European breakthrough has commenced. it is near impossible to label Run Sofa's sound – varying form jazz influences, industrial rock and hip-hop, critics have coined a new handle for the unique foursome sound - Zappa-style hip-hop.
The Ills and Run Sofa are set to play INmusic #14 as part of Europavox project. INmusic festival is the proud Croatian partner of the Europavox project, an European Commission funded long term collaboration project between seven European countries, dedicated to the promotion of European musical diversity and providing an international and interactive live music experience.
The Ills and Run Sofa are joining the stellar INmusic festival #14 line-up including the legendary The Cure, Foals, Suede, Garbage, LP, Johnny Marr, The Hives, Kurt Vile & The Violators, Frank Turner & The Sleeping Souls, Santigold, Sofi Tukker, Peter Bjorn and John, Skindred, Zeal & Ardor, Fontaines D.C., Black Honey, Gato Preto, and Siddharta at INmusic festival #14, along with many more yet to be announced. INmusic festival #14 will take place at the Isle of Youth at Zagreb's lake Jarun from June 24th to the 26th, 2019. Three day festival tickets for just 74 EUR (+transaction costs) and seven day camping tickets for just 33 EUR (+transaction costs) are available online via the official festival webshop.