The first evening of Europavox festival Zagreb presents a music journey of contemporary Balkan music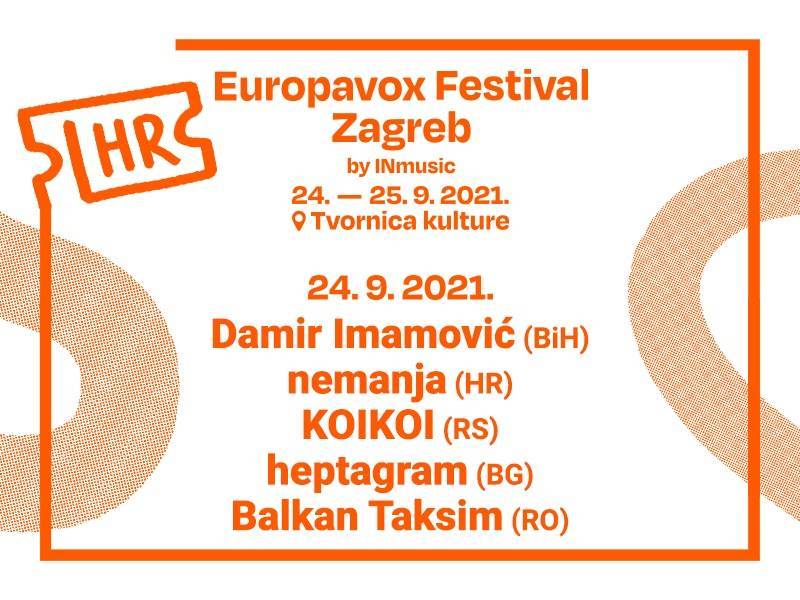 Damir Imamović, nemanja, KOIKOI, heptagram and Balkan Taksim will perform at Zagreb Culture Factory on September 24th, 2021 at the first edition of Europavox festival Zagreb!
The rich and culturally diverse Balkan tradition merged through centuries of intense migrations made its most recognizable imprint on European culture through the medium of music. European cultural diversity and intercultural exchange has shaped our cultural heritage in the past in the same extent it shapes our cultural landscape today, and with Balkan music influences finding their footing in every corner of the continent, it serves as the best starting point to highlight and introduce the objectives of the new phase of the highly acclaimed European collaboration project Europavox. The first evening of Europavox festival Zagreb 2021 will present the audience with a cross-section of the Balkan contemporary music scene – from modern iterations of traditional and authentic music forms such as sevdah to contemporary psychedelia inspired by the musical traditions of the Balkan region. 
'Merges Anatolian '70s acid rock with Massive Attack's menacing creep' (MOJO) – the best possible summary of an international introduction to the Romanian duo Balkan Taksim – their music fuses together trip-hop electronica and Eastern European traditional folk music making it the perfect example of new tendencies and innovation shaping the contemporary Balkan world music production.  Heptagram is a young Bulgarian four piece gathered around the multi-instrumentalist Daniel Ivanov whose musical influences are best reflected in the live performances and improvisations spanning the rock psychedelia genre and merging it with contemporary and traditional Bulgarian musical influences. KOIKOI is a Serbian four member band which has already claimed their accolades among regional music journalists and audiences alike with their trans-genre mix of authentic music tradition and contemporary western music trends resulting in a mellow yet forceful rock presence and loudness – a perfect example of contemporary alternative pop. nemanja is a four piece music project by author and musician Luka Šipetić which has released two highly acclaimed and internationally acknowledged studio albums – Tarot Funk and Cosmic Disco – in which a colourful spectre of music influences meet, from Thai funk, Afro-funk, Anatolian 70's rock and Cambodian 60's psycho rock all the way to 70's disco music, Chica Cumbia, Yugoslavian funk, Afro beat and Lebanese disco. The Eurpavox festival programme of the first festival day will come to a close by the most traditional and authentic music form by one of the most internationally revered sevdah masters – Damir Imamović, accompanied by American jazz bassist Greg Cohen and Derya Türkan, a master of the Turkish kemenche (3-stringed fiddle). This year's winner of the Songlines award for Europe's best world music artist and the third generation of the most renowned sevdah family (grandson of the legendary Zaim Imamović, and son of the equally admired Nedžad Imamović), Damir Imamović is world known for his intense interpretation and a rich melancholic voice which leaves no soul indifferent, and with which the audience will come full circle in the musical story of the evening intertwining the contemporary and traditional musical landscape of today's Balkans as the theme of the first day of Europavox festival Zagreb.
Europavox festival Zagreb will take place on Friday, September 24th, and Saturday, September 25th, 2021 at Zagreb's Culture Factory. One day tickets for Europavox festival Zagreb are available from 99 kunas (14 EUR), and two day festival tickets from 149 kunas (20 EUR) via the official INmusic festival webshop from September 1st 2021. Europavox festival Zagreb will take place in accordance with the current epidemiological measures and recommendations set forth by national bodies and with the mandatory inspection of EU digital COVID certificates or valid negative COVID test certificates, along with presenting an accompanying identification document.