Europavox festival Zagreb third edition line-up delivers the best of new European music to Croatian audiences!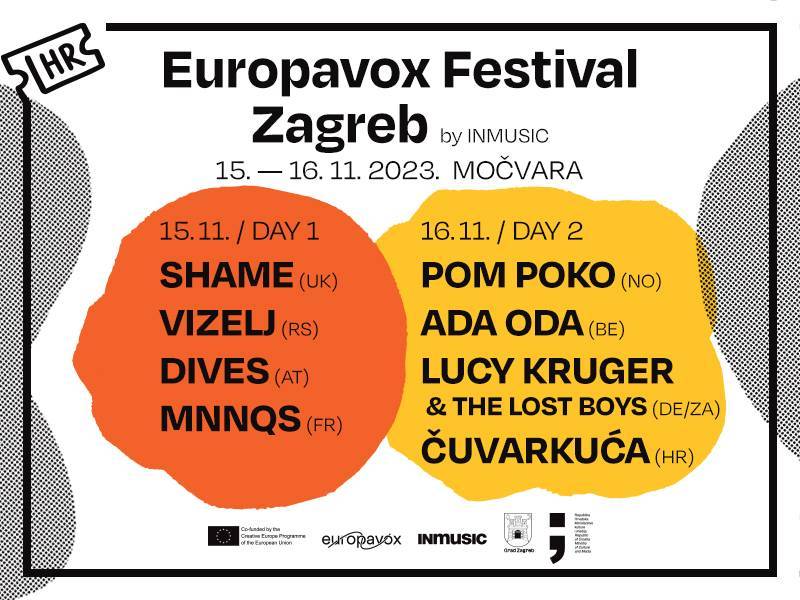 The third edition of Europavox festival Zagreb will take place on November 15th and 16th in Zagreb's Club Mochvara to deliver eight fantastic young European musical acts from across Europe!  
The first day of Europavox festival Zagreb 2023 opens with the latest French rock band to keep an eye on – psychedelic post-punk four MNNQNS. Following the French post-punk wave, Austiran trio DIVES will deliver their unique blend of surf-garage-pop, providing ample proof as to why DIVES are on everyone's radar for years now. In line with new and unexpected musical explorations and contemporary music genre reinterpretations, the unpredictable Belgrade foursome Vizelj will make their presence known – a band impossible to label guarantees an unforgettable sound and performance. On the subject of memorable live band performances, the headliner of the first night of Europavox festival Zagreb 2023 undoubtedly stand out in global terms. The British post-punkers Shame have earned their title as one of the best young bands out there, distinctive for their energetic and unhinged live performances in equal measure as for their musical craftmanship and distinct generational voice. Their Croatian live debut arrives on the heels of their highly critically acclaimed third studio album 'Food For Worms' and the band is dedicated to demonstrate why Shame is a live show one should never ever miss.
 The second evening of Europavox festival Zagreb continues the exploration of the wide and colourful array of rock and associated genres, form locally grown indie rock to Norwegian punk-pop, and with two Europavox Bands of The Month to boot. Croatian foursome Čuvarkuća will start the evening off with their mesmerizing indie-psych-pop, followed by Lucy Kruger & The Lost Boys pop-noire with seamlessly interwoven elements of garage and folk crowned with the June's Europavox Band of The Month title. A new energy to the evenings programme is set to land with the Belgian latest musical mavericks – Ada Oda. Their unique lo-fi punk-pop amplified by Italian exclamations already won over the hearts of avid post-punk fans and earned Ada Oda the title of Europavox Band of the Month in December 2023. The musical festivities of the third edition of Europavox festival Zagreb are set to close accordingly – with another long-awaited Croatian live debut – and the innovatively strange and simultaneously sugary punk-pop melodies of by many considered one of the best Scandinavian bands of the past decade, Norway's answer to Studio Ghibli's world of wonder, the charming and talented Pom Poko.
The diverse and carefully selected music programme of the three consecutive Europavox festival Zagreb editions curated and promoted by INmusic festival have focused on the projects primary objectives of promoting and affirming young European music talents form across the continent. The Europavox Project 2020 – 2024 is co-funded by the European Commission and defines its core objectives in the building of audiences for contemporary music, facilitating cross border mobility and international cultural exchange, and highlighting European cultural diversity. INmusic festival is the proud Croatian partner of Europavox project since 2016 and has since presented some of the best new European music artists as part of the Europavox project - Fontaines D.C., Superorganism, Peter, Bjorn & John, Zeal & Ardour, Super Besse, Reykjavíkurdætur, Black Honey, and many more.
Europavox festival Zagreb 2023 will take place on the 15th and 16th of November at Club Mochvara. Two-day festival tickets for Europavox festival Zagreb are available from 20 EUR via the official INmusic festival webshop.