Europavox festival Zagreb 2022 at Club Mochvara this November!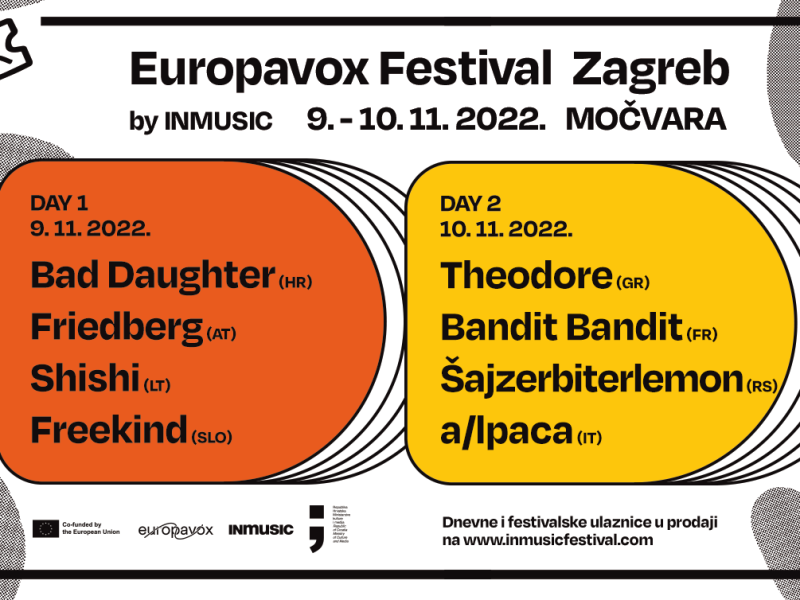 The second edition of Europavox festival Zagreb will take place from November 9th to 10th at Zagreb's Club Mochvara to present a unique selection of some of the best new European music from eight countries!
The highly acclaimed Europavox project is a 4-year large collaboration project and whose proud Croatian partner since 2016 is INmusic festival. Europavox was born 15 years ago with two main goals: to help European music talents to travel and spread their songs all over the continent, and to help music lovers to discover great new artists.
The first day of Europavox Zagreb 2022 kicks off with Freekind, a Slovenian-Croatian duo Nina and Sara, whose paths crossed at the Graz jazz academy and whose shared love of soul, RnB and hip-hop gave shape to a unique music project with international attention. Straight form the Baltic shores od Lithuania, the three indie surf mermaids that are Shishi, deliver their own blend of 'zero-waste trash music' for all the curious souls worried about the state of the world we share. Friedberg, Austrian born and London based singer songwriter backed by a fierce female ensemble, blends post punk and alt rock cloaked in a seductive pop veneer – with stamps of approval straight form Radio 6 Music and festival stages across Europe. First evening of Europavox Zagreb closes with a local musical force - Bad Daughter. The acclaimed debut album 'Let me panic' introduces a new musical presence of Dunja Ercegović, already well known to the regional audience also as Lovely Quinces, which features bold and skilful explorations of indie pop through a post punk, electronic, even industrial lens with an impressive live performance.
Europavox Zagreb second night is introduced by A/lpaca, the Italian post punk four from Mantua whose psychedelic industrial sound captured the attention of Croatian audiences back in June at INmusic festival #15. The Belgrade trio Šajzerbiterlemon are the latest frontiers of the Serbian alternative scene whose mix of post punk, noise and alternative build upon their local contemporaries like Straight Mickey and the Boyz and Repetitor. Bandit Bandit are a French duo who successfully pair a strong retro spirit, reminiscent of a stoner rock Bonnie and Clyde dynamic duo, with contemporary garage rock for the 21st century. The second edition of Europavox Zagreb and this year's selection of new European music closes with Theodore, the Greek multi-instrumentalist merging classical compositions with contemporary electronic music creating cinematic music simultaneously on the verge of ambiental post rock and gritty 80's synth wave.
Europavox Project 2020 – 2024 is co-funded by the European Commission and defines its core objectives in the building of audiences for contemporary music, facilitating cross border mobility and international cultural exchange, and highlighting European cultural diversity. INmusic festival is the proud Croatian partner of Europavox project since 2016 and has since presented some of the best new European music artists as part of the Europavox project - Fontaines D.C., Superorganism, Peter, Bjorn & John, Zeal & Ardour, Super Besse, Reykjavíkurdætur, Black Honey, and many more.
Europavox festival Zagreb 2022 will take place on the 9th and 10th of November at Club Mochvara. Single day tickets for Europavox festival Zagreb are available from 89 kunas, and two-day festival tickets from 139 kunas via the official INmusic festival webshop at https://www.inmusicfestival.com/en/shop/tickets.