Bombino, the African guitar hero, is the first world music name of INmusic festival #13!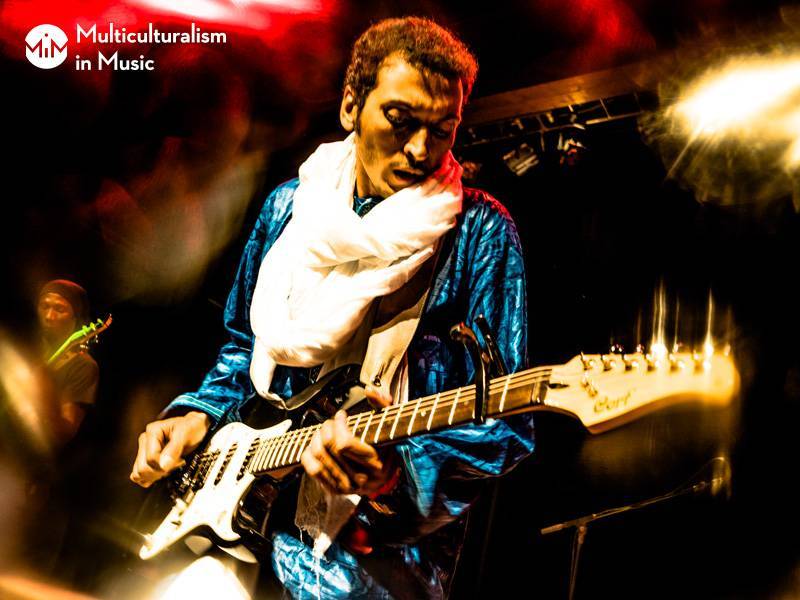 The rebellion rock ambassador Bombino is performing as part of the Multiculturalism in Music project.
Omara Moctar, aka Bombino, is an African guitarist and musician whose skills and virtuosity are often compared to the legendary Jimi Hendrix. His exploding energy and sensational music are inspired by his ethnic roots and admittedly influenced by Mark Knopfler, Ali Farka Touré, Santana, and of course, Jimi Hendrix. Born in northern Niger in 1980, Bombino is an ethnic Tuareg, a member of the nomadic tribe spread out across the Sahara Desert and over several countries' borders. Two bloody wars from the 90's forced Bombino and his family to flee. They then returned to Niger and Bombino continued with his life and professional career in his homeland. Those experiences have shaped him as an artist and it is to no surprise that most of his songs refer directly to burning Tuareg geopolitical concerns. He sings about finding unity among the transnational Tuareg community ("Adinat [People]") and the ever-present problems of desert life, such as in "Aman [Water]." Even though he sings in his native language, his sound and style are alluring on a global scale.
Bombino's highly acclaimed international studio debut Agadez was released in 2011, followed by energetic live performances which earned him the title of one of the greatest guitarists and musicians of today. Nomad, his second international solo album was produced by Dan Auerbach - better known as the guitarist and singer of The Black Keys. This unusual co-operation resulted in a perfect blend of fuzzy, loose and wide-open sounds – familiar to fans of The Black Keys — which complements the honey-and-sand texture of Bombino's voice. The third, and by many most beloved album, Azel was released in 2016 and produced by Dave Longstreth, attracted even more international attention by applying Western vocal harmonies to Tuareg traditional melodies. This blend of blues and rock with reggae has produced a whole new musical style - Tuareggae, making Bambino the pioneer of the new sub-genre.
Bombino will perform as part of a long established project Multiculturalism in Music which proudly presents world music artists from various countries. Its aim is to point out the significance of the influence of "non-western" music on popular culture. The project Multiculturalism in Music seeks to reflect universality in diversity and to point out the significant role "non-Western" cultures play in the formation of modern society, precisely music.
INmusic #13 will take place at the Isle of Youth in Zagreb's lake Jarun from June 25th to the 27th, 2018. Bombino will be joining an impressive set of rock greats – Queens Of The Stone Age, Nick Cave & The Bad Seeds, Alice In Chains, David Byrne, St. Vincent, Portugal. The Man, The Kills, Frank Carter & The Rattlesnakes, and many more names to be announced. Festival tickets are available online via the official festival webshop for just 53 EUR as well as seven day camping tickets for just 33 EUR.